TREESHARP reports and charts from database
TreeSharp is designed to connect databases like SQL Server, Access, FoxPro ets... and produce reports and charts interactively using a tree control, for that reason can be considered as a backing program for every application that need an analysis tool easy to use and intuitive.
the strenght of TreeSharp is its simple interface and the ease of use, thanks to those features the end user can get result in a few clicks without any knowledge of reporting.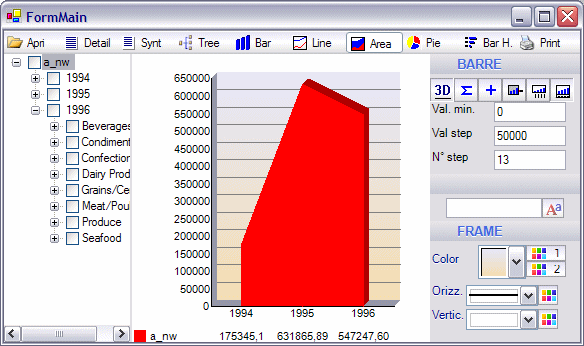 Main features:
OLEDB connection to almost any database including SQL Server, Foxpro, Access, DBase etc.
Fast data retrival
Custom reports, including detailed, syntetic and "tree style" reports on the fly.
Custom charts of single and multiple selections to compare.
COMPARE VERSIONS
| | | |
| --- | --- | --- |
| | TreeSharp Express | TreeSharp Standard |
| Simple reports | | |
| Charts | | |
| Tree control | | |
| Print / preview | | |
| Optimized for large databases | (slower) | |
| Copy to clipboard | | |
| Export html | | |
| Export xml | | |
| Price | FREE | 39 USD |
GO TO DOWNLOAD