G-TRACK
With G-Track you can acquire geographic points and follow the status of intervention like "Inserted", "Work started", "Ended", "Rejected" etc... annotating comments, date and time of the stage completed. This can be done with both smartphone and desktop application that synchronize their data with the main internet database (SQL Server + Web Services).
One possible application for this system is to follow the works to be done in a big city, for example: a road problem or a tree that disturb circulation, in this case the problem can be insert in two ways : 1) one member of the staff sees the problem and using the smartphone take exact GPS position and shut a photo of the problem adding some notes. 2) the citizen call the city call-center and the operator insert the address and some brief description of the problem.
The following step is the repair process, the area manager visualize all the problems on the map and group those with the same address, print the list and give it to the repair squad (the status of the point goes to "work started").
When the problem is fixed the squad can send the filled form back to the area manager or via smartphone record the intervent directly updating in real time the status.
system includes: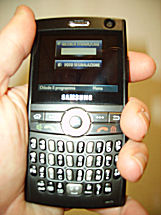 G-MOBILE: (smartphone program) used to phisically acquire points via GPS and send to the server
Main features:
Easy to use.
Send photo of the point to monitor.
Work offline or online.
GPS locator for fast georeferential.
Offline map of the city.
Powerful database (22000 points and 100000 rows, seek time < 1 second).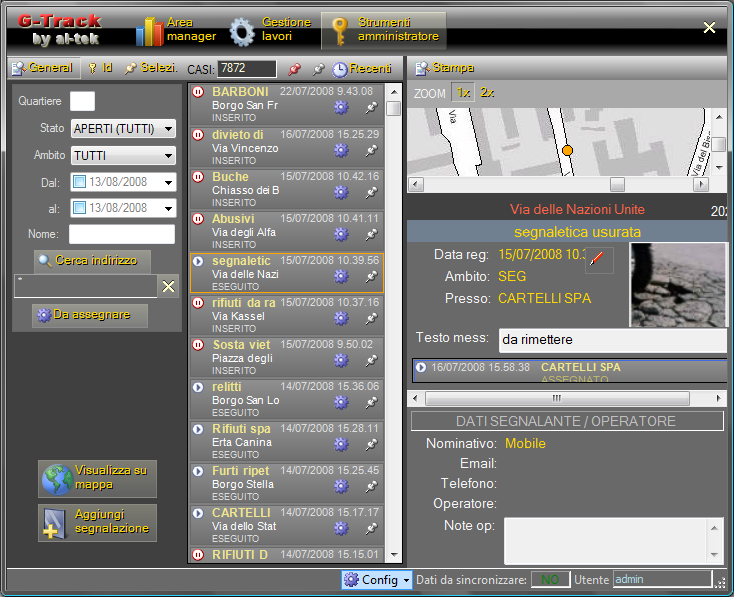 G-TRACK: (Windows client), manage the points acquired.
Main features:
Easy to use.
View photo of the point to monitor.
View the point on map.
Work offline or online.
Role enabled (call center can add new points, operator can assign points etc.).
Print custom list of the points to manage.
For further informations email to: braccini@al-tek.com if interested you can try the desktop program online and see performance.